Hello! There is my create handmade! I do this beacause I love reuse textill, I love sew. I hope you enjoy a bag! I made this with help my mum who is a good tailor.
CO DWA TYGODNIE NOWE PROJEKTY!
OLDCHOOLOWE NERKI W STYLU MIEJSKIM Z TKANIN Z ODZYSKU
(Sesja z moim byłym uczniem)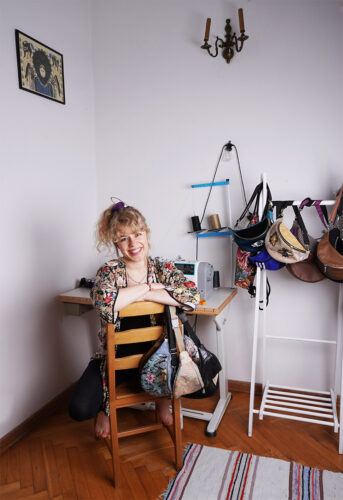 ul. Sandomierska 4, Warszawa Zapraszam do warsztatu w celu omówienie projektu przyszłej nerki, zapraszam do zakupu na miejscu, można płacić kartą lub blikiem. Umów się na wizytę: kontakt@bryzka.com
Nosiłabym jak dama łasiczkę!
Nerka od Bryzki jest jak czekolada, można bez niej żyć, ale po co?
Nawet striptizerki, nie zdjęłyby za żadną kasę od Bryzki nerki!
Dłuższe życie każdej szmatki to Bryzka!
Ktokolwiek powiedział, że człowiekowi do życia wystarczą dwie nerki, nie widział nigdy nerki od Bryzki.
Noszę nerkę rano, wieczór i w południe z Bryzką czuję się przecudnie.
Bryzka morska? Blondi Misska! Wokół skrzy i czarem tryska! Odda nerkę polonistka! Taka to jest nasza Bryzka.
Pomyśl 10 pozytywnych słów, które Cię określają, a Bryzka zrobi z tego charakterną nerkę. Już nigdy nie zapomnisz jaka jesteś fajna!
Gdy Cię łapie chwila trwogi, gdy Cię trapi los złowrogi… - spójrz na Bryzki - tam minionych lumpów czar, błyskiem wabią zgrabne nerki, nie brakuje i bajerki – upcyclingu słodki dar
Lepiej mieć ze ścinków nerkę, niż w kolano wbić saperkę.